May 22, 2022
The Saratoga, Corinth & Hudson Railway will start operating tourist trains from Corinth to Greenfield Center starting May 22 and going through September. They will be using an Alco S-1 locomotive built in 1943 along with several passenger cars. More information can be found at CorinthTrain.com.
April, 2022
The sale of the 30 mile railroad line from Tahawus to North Creek is in jeapardy after buyers failed to submit a deposit. Carol Mclean-Wright and John Wright, operating as Doc N Dutchess Railway, bid 3.33 million for the line, planning to use it to ship titanium from the former mine. The Wrights have European backers and say that transfers of money have been delayed due to the war.
Revolution Rail was the second highest bidder and currently operates a rail biking operation there.
June 2021
After spending 35 years collecting items related to the Adirondack Railway, I recently donated many items to the Folk Life Center at Crandall Library in Glens Falls. These include six albums of photographs and another of original documents. Eventually, this collection will be available to the public for research.
February 2020
The US Surface Transportation Board recently advised Warren County Supervisors to hold off on abandonment proceedings of the rail line which would have allowed them to explore tearing up the tracks and using the right-of-way for something other than a railroad.
The board recommended they wait on another abandonment request, this one from the Department of Environmental Conservation for the Tahawus line, which is tied up in the bankruptcy of its owner, Iowa Pacific Holdings, LLC.
2/12/2020
Revolution Rail Company is to offer trips on three sections this year in North River, North Creek to Riverside, and Stony Creek to Thurman. They had 21,000 riders last year.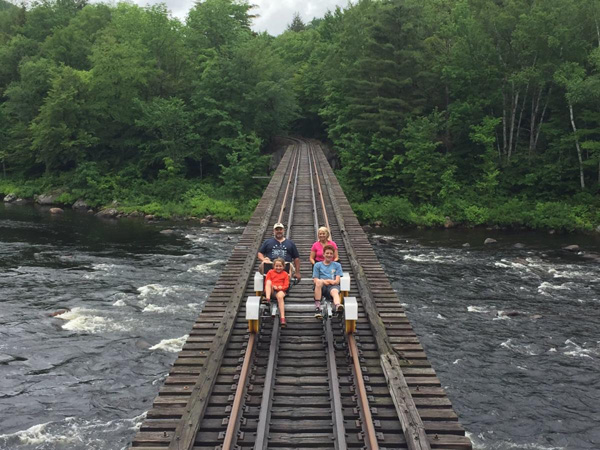 6/15/2020
Revolution Rail cannot operate yet due to Covid and their status as a recreational service. They have also dropped plans for the Stony Creek area due to the lack of a good base of operations. The Thousand Acres Ranch was their planned base but the facility is under new management and the pandemic has ruined a lot of plans.
On October 24th, I stopped at the North Creek station and found this group of Revolution Rail riders getting ready for a trip to Riverside.